Easy Diary Website

Internet-Dienstleistungen Michael Winterberg, Jungferntalstr 153, 44369 Dortmund. info@easydiary.de



Easydiary a simply diary: DOWNLOAD
You can choose three languages: German, Englisch and Polish (3 or 4/2002)

Displaying the Nameday of the actual day

Different Views

Easy edit of entrys

Different types of Entrys

Easy Registration (10 EUR Shareware)

The program will be updated non-stop

You can download this shareware for free - only limited in numbers of entrys

If you have problems with the software you can send a email to support@easydiary.de, i will answer so fast how i can.
Info about registration:
Choose in the Main-Dialog "?" and then "Register". Write your name, your forename, city and country. When all inputs are ok you click "ID Create". The created ID will be displayed and you not can change your personal data. All Inputs including ID you send for the email-adress register@easydiary.de . You get a automatic respond mail where i send you all information about my bank account where you must send the 10 EUR Shareware fee. When this fee arrive on my bank account i send for you the Activation-Key.
Maindialog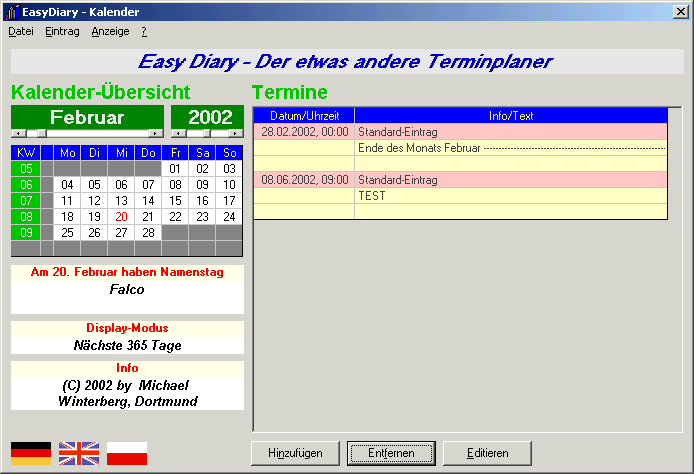 Editor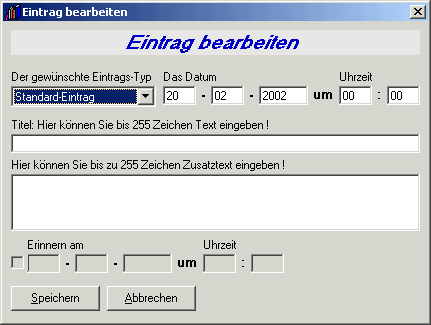 Registration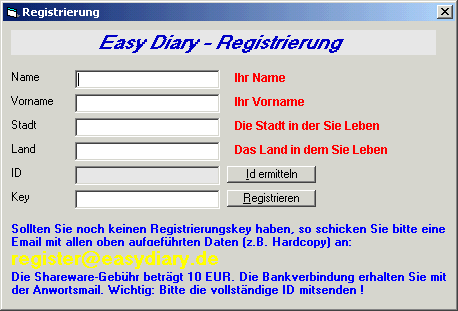 26.02.2002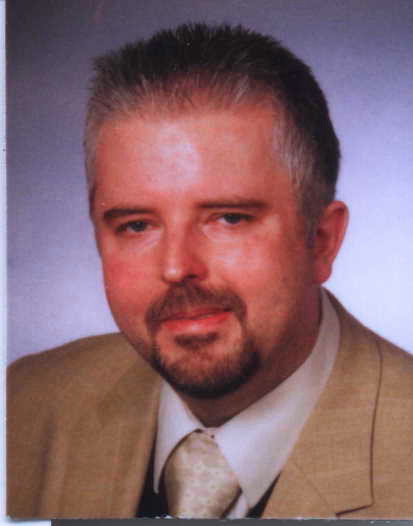 (C) 2002 by Michael Winterberg
Email: info@easydiary.de
With judgement from 12 May 1998 the regional court Hamburg decided that one has to if necessary also answer for contents of the linked page by the yield of a on the left of. This can be prevented, so the LG, only by the fact that one dissociates oneself expressly from these contents. We put on our pages links to other pages in the Internet. Hereby we explain expressly that we do not have any influence on the organization and contents of the linked pages. Therefore we dissociate ourselves hereby expressly from all contents of all linked pages on our homepage. This assertion applies to all on our pages displayed on the left of and for all contents of the pages, to which the banners announced at us lead and links.

seite gezählt durch: